Nextbase's latest unveiling brings its most expensive dash cam to market – the 622GW. We look at whether this feature-heavy model will be worth your hard-earned money.
The 622GW is Nextbase's most advanced dash cam to date, and is launching as part of its Series 2 range, which was first unveiled in June 2019. Retailing for £249, this dash cam will be available from today at Halfords and on Nextbase's website.
We look at what you're getting for your money with this new model, and how it stacks up next to equally pricey competitors. We'll also tell you how premium dash cams perform in our tests compared with cheaper alternatives.
---
Looking for a dash cam that records clear footage? Our independent lab and road tests reveal the top five dash cams for 2020.
---
Nextbase 622GW – first impressions
The Nextbase 622GW stands out for being one of few models on the market that records footage in 4K (3,840 x 2,160p).
Its predecessor, the 612GW dash cam, records in the same resolution, but Nextbase has added an extra function with this model that it says will improve its footage. The new 622GW has a removable polarising filter, which aims to prevent windscreen reflection, glare and contrast from reducing the quality of recordings.
It has a 140-degree viewing angle – this is good, but not as wide as the 150-degree angle on its predecessor. You do get a huge 3-inch display, giving you lots of space to watch footage and adjust settings directly on the dash cam.
True to the brand's reputation, the 622GW is packed with features. To start with, it has the common extras including GPS tracking so you can see the location of your recordings, a G-force sensor to activate the camera and save footage from moments of high impact, and a parking mode that enables the dash cam to automatically start recording if it detects a bump while your car is parked.
The more advanced features include Alexa voice recording and Bluetooth, which you'll also find on other Nextbase Series 2 dash cams.
Other additions to this model include enhanced night vision – Nextbase claims this provides high-quality night-time recording.
Most notably, the 622GW has emergency SOS with 'what3words' technology. This will assign an exact location to your car, so you can be found if you're involved in an accident. It works alongside your smartphone to send your GPS location and other personal details to the emergency services if it detects a crash and you don't respond.
To find out how other Nextbase dash cams have performed in our tests, head to top five Nextbase dash cams for 2020.
How does the Nextbase 622GW compare with other premium dash cams?
While we can all agree that a dash cam costing more than £200 is incredibly expensive, the Nextbase 622GW isn't the first, and likely won't be the last, to launch at this price.
The 612GW currently retails for £215, while Blackvue and Garmin have also both launched ultra-premium dash cams that topple over the £200-mark. Here's a summary of how they compare with the 622GW.
Blackvue DR750S-1CH (£269)
Blackvue is known for its premium dash cams, and the DR750S-1CH is one of them. It records footage in Full HD (1,920 x 1,080p), which is significantly lower than the 622GW, but its 139-degree field of view is very similar.
You'll get the same standard features on this dash cam, including wi-fi, GPS and parking mode, but it doesn't have premium perks such as Bluetooth, or any special night-vision technology.
Another big thing it's missing is a display. So if you're willing to spend this much on a dash cam, be sure that you're happy to use your computer to watch footage and make any adjustments to its settings.
---
Read our full Blackvue DR750S-1CH review.
---
Garmin Dash Cam Tandem (£278)
The Dash Cam Tandem may be even pricier than the Nextbase 622GW, but for your money you also get a rear camera. It has a built-in cabin-view camera that records what's going on inside your car, while also capturing some of your car's surroundings through the windows and rear windscreen.
Nextbase sells its cabin-view camera separately, which would set you back an additional £49.
This Garmin dash cam also has an extremely wide 180-degree field of view – that's 40 degrees wider than the 622GW. But the footage on the 622GW far surpasses the Full HD recording resolution on the Dash Cam Tandem. The 622GW also has extra features, such as Bluetooth, that this model simply doesn't have.
---
Read our independent Garmin Dash Cam Tandem review.
---
Viofo A129 Pro Duo 4K dash cam (£220)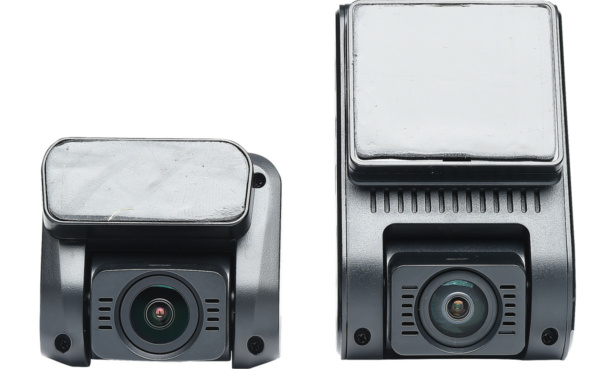 The name is a huge spoiler alert – like the 622GW, the A129 records in 4K. It also has a rear camera attachment that sticks to the rear windscreen of your car to record the road behind.
The Nextbase rear-view window equivalent is sold separately for £49.
As for its other features, this Viofo dash cam doesn't quite compete with the 622GW. It has a narrower field of view (130 degrees), a small 2-inch display compared with the 3-inch screen on the 622GW, and you'll need to spend an extra £24 to get its Bluetooth module.
---
Read our full Viofo A129 Pro Duo 4K dash cam review.
---
Do you need a premium dash cam?
As the graphic above shows, nearly a quarter of mid-range dash cams we've tested (that cost between £500 and £100) scored highly enough to be Best Buys, compared with 19% of premium models and only 4% of cheap ones. So a good-quality dash cam doesn't have to cost an arm and a leg.
However, one thing to bear in mind is that the most premium dash cams usually include all the bells and whistles, so if Nextbase has managed to entice you with all its extra features, you'll likely have to spend a bit more for the privilege. But if you want a dash cam that simply records clear, reliable footage, a Best Buy costing less than £100, or even £50, will suffice.
Best Buy dash cams record clear and detailed footage, are a breeze to install and use, and include helpful features.
To find out more about how we test dash cams, and what it takes for them to be Best Buys, read our guide on how we test dash cams.