The family of Deravis Caine Rogers released dash camera footage showing he posed no threat to the Atlanta police officer who killed him more than four years ago.
Rogers died on June 22, 2016, after former Atlanta Police officer James Burns shot him in the head while responding to a call about a man possibly breaking into cars at an apartment complex, as reported by local station WXIA.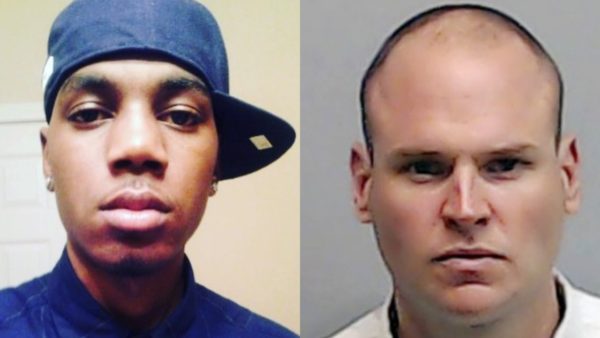 The 22-year-old's family released the video during a Zoom news conference on Tuesday. In the video, Burns turns on his cruiser's lights and siren but Rogers kept driving. After Rogers' car passes, a single gunshot rang out, coming from Burns, who was by then standing outside of his car. Two women who were walking on a sidewalk jumped and screamed when they heard the shot, the video shows. Burns told investigators Rogers was "trying to run me over and kill me," according to The Associated Press. There is no proof Rogers is the man police were looking for.
He was fired from Atlanta Police and hit with several charges within months of the slaying, including murder, before the case was dropped for legal procedural reasons. Prosecutors refiled the charges in 2018, but the case has not been scheduled for trial yet. The current charges include felony murder, aggravated assault with a deadly weapon and violating his oath of office.
Fulton County District Attorney Paul Howard, who recently lost his bid to be reelected for a seventh term in office, said Burns was too quick to employ deadly force against Rogers.
"It became apparent that the officer did not know anything about the person in the car and without knowing any specific facts, he made a decision that ended up being exactly the wrong decision," Howard said in 2016.
Rogers' mother, Melva Rogers, last month filed a wrongful death lawsuit against Burns, former Police Chief George Turner, and the city. Burns violated Rogers' civil rights by using excessive and deadly force and failing to grant him due process, the lawsuit says.
During Tuesday's videoconference, Deravis Thomas, the victim's father, called out Mayor Keisha Lance Bottoms and other city officials, accusing them of ignoring the case while advocating for other Black people who were killed by the police.
"The city of Atlanta has disrespected us greatly by never even acknowledging that this officer murdered our son," Thomas said. "No one has ever reached out to us. (Mayor Bottoms) hasn't reached out and she was on the city council when it happened, so she's aware of it."
Bottoms was on the Atlanta City Council at the time of Rogers death and Kasim Reed was the mayor. She paid her respects to Rogers in a statement to WXIA this week.
"The fact that this incident occurred in 2016, before I was Mayor, yet remains unresolved four years later, only highlights the need for urgent action and reform," Bottoms stated. "My thoughts and prayers are with the family of Caine Rogers and every other family awaiting justice."