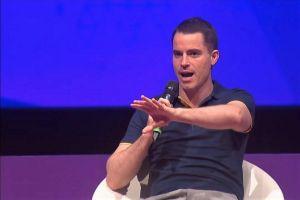 Tech entrepreneur Roger Ver, whose activism in the cryptoverse has earned him the nickname Bitcoin Jesus, has stirred controversy by calling on the disillusioned Bitcoin Cash (BCH) faction to shift their efforts to altcoin DASH.
With BCH's Infrastructure Funding Plan (IFP) slated to redirect funding from miners to developers, Ver might lead an exodus of community members to voice opposition to these plans.
"There is already a peer to peer electronic cash cash coin with IFP. It's called DASH. I suggest IFP supporters sell their BCH for DASH, and start working on that chain," Ver wrote in a recent post on Reddit.
The move follows a proposal made by Jiang Zhuoer, CEO of Bitcoin mining pool and mining services provider BTC.TOP, who had published an intention to direct 12.5% of BCH coinbase rewards to a fund that will support Bitcoin Cash infrastructure under a six-month donation plan. This would redirect BCH 20,588 (USD 7 million) towards BCH ecosystem development.
Ver's suggestion has earned him some kudos, with user 'thedesertlynx', for example, stating that it was also what they have "been suggesting since 2016 when dev funding/takeover issues caused BTC to shift. If IFP supporters do want something with a built-in funding mechanism, then sure, look into DASH."
This said, DASH might not be the perfect investment for those community members who seek regular guaranteed funding, according to the Reddit user. "DASH devs have to justify their positions to the network EVERY MONTH or lose funding. There's no guarantee," they write, adding: "And, controversial dev decisions are subject to a vote, and if they lose then it doesn't happen. If IFP devs want guaranteed funding regardless of performance or consensus, DASH may be the wrong place to look," the user wrote.
Some other users were less inclined to follow Ver's advice, accusing him of promoting an exit towards DASH with little more than his own agenda in mind.
"Remember when Roger was bragging about how BCH had multiple developers and everyone was wanting to work on the 'real' Bitcoin? Remember when Roger supported the mining tax so it would reduce his mining costs?", user 'BITCOIN4L4f3' wrote.
The latest development follows rumours of another hard fork after 2018's emergence of Bitcoin cash ABC and Bitcoin SV (BSV). It is noteworthy that BCH itself is the result of a Bitcoin (BTC) hard fork from 2017.
At the time of writing (13:40), BCH is trading at USD 292. It dropped nearly 1.5% in a day, and appreciated nearly 4.4% in a week.
____
Learn more:
Cryptoverse Stunned as Jihan Wu, Roger Ver Sign a Threat to Bitcoin Cash Miners
Bitcoin Cash Dev Tax Still Might Go Live Despite Roger Ver Revokes Support
From Cash to Cat – A New Attempt to 'Make Bitcoin Great Again' In Works