Introduction
Stockscale is a forex & crypto trading platform that takes traditional Forex brokerage model to the next generation with cryptocurrency for deposit and trade settlement in addition to the regular Fiat currency trading possibilities. This allows Stockscale to offer higher leverage, a diverse array of trading instruments.
Stockscale is an offshore Forex broker who allows traders to deposit via Bitcoin as well as bank transfer and credit cards.
Since Dash is pseudonymous (not 100% anonymous!), it is not obvious without great effort exactly who is the source of deposits and the recipient of withdrawals.
Trading Account Types
Stockscale provides one account type that is raw spread and commission trading for all trading pairs on their trading platform, and allows hedging, scalping and trading through expert advisors.
Stockscale features narrow spreads across all trading pairs. The spreads are fixed and variable.
All account types come with negative balance protection. Since Forex markets are not continuous, the price can fluctuate between the end of one session and the beginning of another. Therefore, it is possible to end up with a negative balance in your account.
Even if you have stop-losses set that would normally be triggered by a price move, if the market is not in session at that time, your stop-loss order will not be executed. In this case, the account balance is set to 0 and your negative balance will be wiped out.
In addition to the real accounts, Stockscale also provides free demo accounts on their demo server. These demo accounts do not expire.
The Company
Stockscale  was founded in 2021. Stockscale.io, which is an IBC (International Business Company), is behind the Stockscale brokerage and is based in British Virgin Islands.
Many offshore forex brokerages are based there due to the simple and inexpensive registration process and hands-off approach taken by the regulatory agencies there.
Consequently, many regulations you may be familiar with in dealing with other Forex brokers do not apply to Stockscale.
Whether this is a bad thing might be considered a matter of personal opinion.
Safety Of Funds with Stockscale!
Risk Management
Stockscale regularly conducts internal and external audits to ensure our organization has met all the legal requirements of operating our business safely and adequately. We also periodically do KYC & AML reviews and assessments and employ several operational risk controls throughout the company.
Segregated Funds Account
Stockscale strictly handles client information, accounts and deposited funds by separating them into our segregated bank accounts. These funds are independently kept and separate from the funds of the company. Clients funds will not be used for day-to-day business operations such as utilities, rent or employee salaries.
Liquidity with top tier banks
The biggest world banks provide liquidity for Stockscale. Moreover, the company's clients get only the best prices from the price float which these banks offer for the most beneficial orders.
Qualified staff
Stockscale staff members are high-level professionals with over ten years of experience in the financial area who are always ready to help and provide qualified client support.
Security
Every client should be sure that his funds and personal information are kept securely while working with our company.
Measures of security are:
Data Transfer Protection
Data transfer via an SSL secure connection with encryption of information helps prevent the interception of user data by a third party while working with the website, no matter where you are.
Protection from Negative Balance
Stockscale company compensates for the clients' losses that exceed the amount of funds on their trading accounts. This means that when a negative balance occurs because of a sharp movement on the market, it will be set to zero to protect the clients from unexpected losses.
Multilevel system of servers
Infrastructure, which consists of multiple servers, supports the uninterrupted work of the system. And a complex scheme of data backup helps prevent the clients' information (personal data, history of commercial transactions, etc.) in any situation.
International security standard
The company's internal procedures are based on the PCI DSS security standard, which involves a complex approach to the client's data security.
Data storage protection
Users data is protected not only while transferring between the company's website and the browser. We also provide encryption of all stored information that helps prevent unauthorized access to our client's data.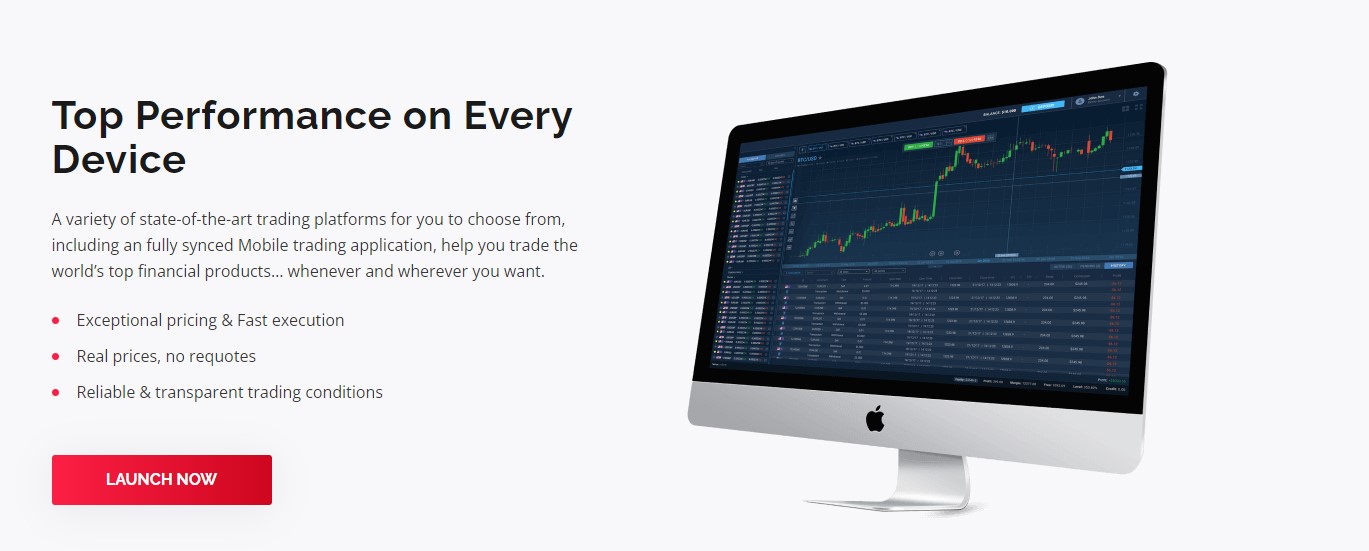 Platform & Trading Conditions
Stockscale supports a trading platform that offers trading through desktop, web and mobile versions.
Everything you need to analyze the market, trade or create and utilize Expert Advisors is all there. The  Platform supports any browser or operating system (Windows, Linux, Mac) with no software download required ( but is optional).
Stockscale leverages a worldwide network of datacenters to ensure excellent connectivity in all regions of the world.
Most major currency pairs such as EUR/USD and more
Exotics such as USD/TRY, EUR/TRY, TRY/JPY, USD/CNH, USD/HKD, USD/DKK and EUR/DKK.
In addition to Forex, Stockscale also allows trading in commodities, indices (using CFDs) and cryptocurrencies.
Cryptocurrency pairs cross cryptocurrencies with the U.S. dollar, Euro, Yen, Chinese Yuan, Gold and Oil. Bitcoin, Ethereum and Litecoin are also crossed with each other.
Conclusion
Stockscale opens up Forex to those who are coming from the world of cryptocurrency.
And it does this wit an easy to understand trading platform and solid trading conditions.
Those who take privacy seriously will appreciate Stockscale way of handling accounts.
Their market analysis and market report which is continues fly updated as great assets to have for any broker as it gives the trader this much needed extra information to come to better trading decisions.
The rates are fair and the they offer more then enough for most traders when it comes to assets for trading.
If you are professional trader this broker most likely will not be good enough for you but if you are beginner or someone that has been trading as a day trader and just look to open a few position a week this broker will be able to accommodate you nicely.