TOM Cruise masked up to go to the cinema after reportedly spending the coronavirus lockdown at a Sussex Scientology base.
The Mission: Impossible star visited London for a screening of Christopher Nolan's new spy film Tenet.
Cruise, famous for carrying out his own stunts, posted a video of himself wearing a mask and going to the cinema after months of them being closed under lockdown.
In a video shared on Instagram, the actor drove through the streets of London, taking in Buckingham Palace and some of the city's best-known landmarks, and waving at cyclists before arriving at a cinema.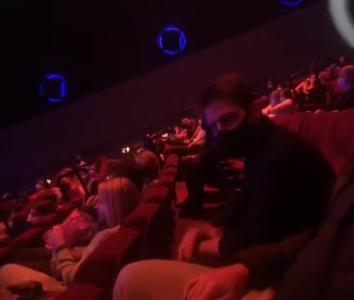 He was wearing a mask and a turtleneck jumper, but fans still managed to recognise him.
He climbed out of his taxi and posed next to a Tenet poster, saying: "Back to the movies."
The footage cut to inside the theatre, showing the moments before the film started and just after it had finished.
Amid applause from the audience, Cruise told his fellow cinema-goers: "Great to be back in a movie theatre, everybody."
As he left the building, he told a fan he "loved" Tenet.
Cruise, 58, captioned the video: "Big Movie. Big Screen. Loved it."
Cruise has reportedly spent lockdown relaxing at Saint Hill Manor, near East Grinstead.
It is believed that the Top Gun star has been staying in a luxury wing of the religion's UK headquarters.
The historic 17th century country estate includes a restaurant run by a Michelin star chef who used to work at Gordon Ramsay's restaurant Royal Hospital Road in London. The library is said to hold books written by Scientology founder L Ron Hubbard.
Earlier this year, former family friend and Scientologist Sam Domingo told the Daily Mail that Cruise and his three sisters would often use Saint Hill as a base.
He said at the time: "It's possible that they're looking at the East Grinstead area to settle down again. I heard all the sisters were seen in a cafe in Forest Row, where the school is, and wanting to live there.
"It's close to the school, but outside of the town, and a bit more private.
"A few years back, his sisters quietly did a tour of Greenfields School and it looked like they were thinking of moving into the area."
Cruise previously owned a six-bedroom property in East Grinstead, but sold it for $6 million in 2016 to the Australian singer Peter Andre. He has said that England "is a really great place to live".
The film Tenet, which stars John David Washington and Robert Pattinson, was set to be one of the biggest releases of the year before the coronavirus pandemic sent Hollywood into crisis.
Now, theatre chains are hoping the critically acclaimed film will entice audiences back inside after months of lockdown.
Cruise, who was filming Mission: Impossible 7 before production was halted by the pandemic, is next set to appear on the big screen in July 2021 in Top Gun: Maverick. The action sequel was originally set for release in June this year before being delayed by the pandemic.