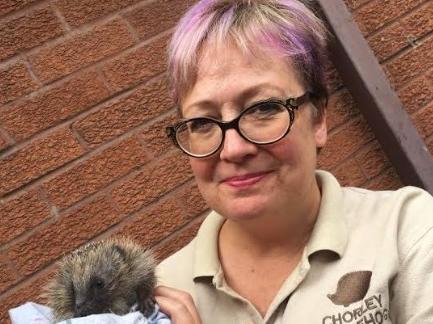 Katherine with a hedgehog patient at the Chorley Hedgehog Rescue centre where she volunteers.
Animal lover Katherine Martinez got prickly when her mercy mission to save an injured hedgehog landed her with a speeding fine.
Now the rescue volunteer is challenging the £100 penalty in court, pleading for leniency on humane grounds.
Katherine was caught on camera in Blackpool Road, Preston in the early hours of June 9 doing 37 mph in a 30 mph zone as she rushed to get the badly mauled creature to a rescue centre. Lancashire Police considered her appeal, but ruled the fine must stand. Now the case will go to the city's Magistrates Court.
"I know I was in the wrong for speeding, but I had hoped the police would show some leniency when I explained the reasons," said Katherine, from Loctock Hall.
"I was trying to save the life of a poor hedgehog which had been savaged by a dog. You need to act quickly in situations like this because dog bites can be very serious for these poor creatures.
"It was almost 12:30am, there wasn't a vehicle on the road except mine. I didn't realise I was speeding and it shocked me when I saw the camera flash. I was just focusing on getting a badly injured and screaming hedgehog to the Preston rescue centre. I was just trying to save an animal's life."
MP Nigel Evans has taken the case up with the police and urged them to review it.
Katherine, who has had to give up her civil service job to be a full-time carer for her partner, has also launched a GoFundMe page to raise money to pay the fine and any court costs. The fund reached half of its £200 target within a matter of hours.
"I've decided to go to court because I feel strongly about this," she added. "But I also want to raise awareness of the two hedgehog rescue centres in Preston and Chorley.
Lancashire Police declined to comment.
The hedgehog, which had 30 puncture wounds, died after a 10-day battle for life.