Introduction
Stockhome is a forex & crypto trading platform that takes the traditional FX brokerage model to the next generation with cryptocurrency for deposit and trade settlement and the regular Fiat currency trading possibilities. This allows Stockhome to offer higher leverage, a diverse array of trading instruments.
Stockhome is an offshore Forex broker that allows traders to deposit via Bitcoin, bank transfers, and credit cards.
Since Bitcoin is pseudonymous (not 100% anonymous!!!), it is not evident without great effort precisely who is the source of deposits and the recipient of withdrawals.
Trading Account Types
Stockhome provides one account type: raw spread and commission trading for all trading pairs on their trading platform and allows hedging, scalping, and trading through expert advisors.
Traders can trade with up to:
10:1 leverage on cryptocurrency pairs such as BTC/USD
300:1 leverage on Forex.
100:1 leverage on Commodities and indices.
Stockhome features narrow spreads across all trading pairs. The spreads are fixed and variable.
All account types come with negative balance protection. Since Forex markets are not continuous, the price can fluctuate between the end of one session and the beginning of another. Therefore, it is possible to have a negative balance in your account.
Even if you have a stop-losses set that would usually be triggered by a price move, if the market is not in session at that time, your stop-loss order will not be executed. In this case, the account balance is set to 0, and your negative balance will be wiped out.
In addition to the real accounts, Stockhome also provides free demo accounts on their demo server. These demo accounts do not expire.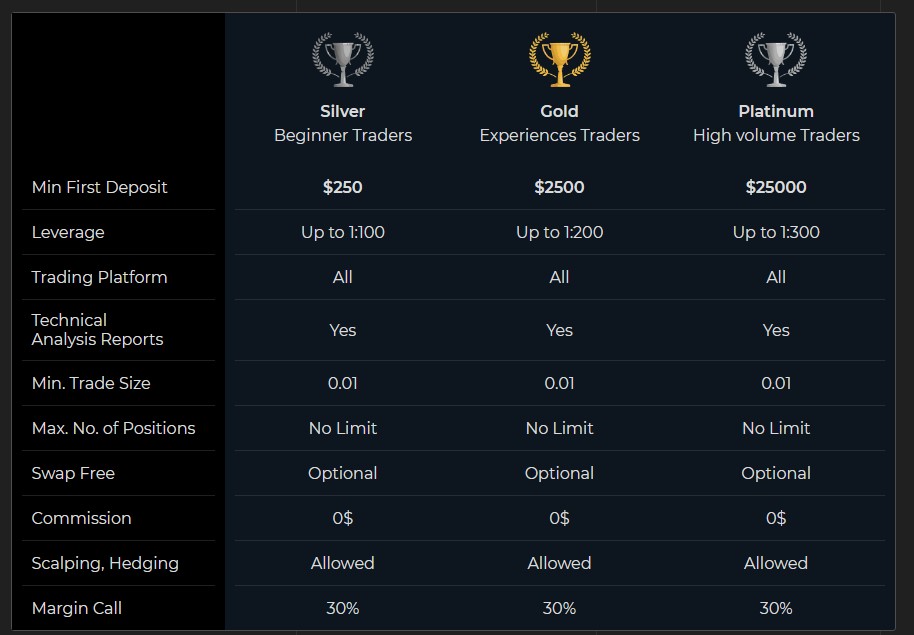 The Company
Stockhome was founded in 2021. Stockhome, an IBC (International Business Company), is behind the Stockhome brokerage and is based in Saint Vincent and the Grenadines.
Many offshore forex brokerages are based there due to the inexpensive and straightforward registration process and hands-off approach taken by the regulatory agencies there.
Consequently, many regulations you may be familiar with in dealing with other Forex brokers do not apply to Stockhome.
Whether this is a bad thing might be considered a personal opinion.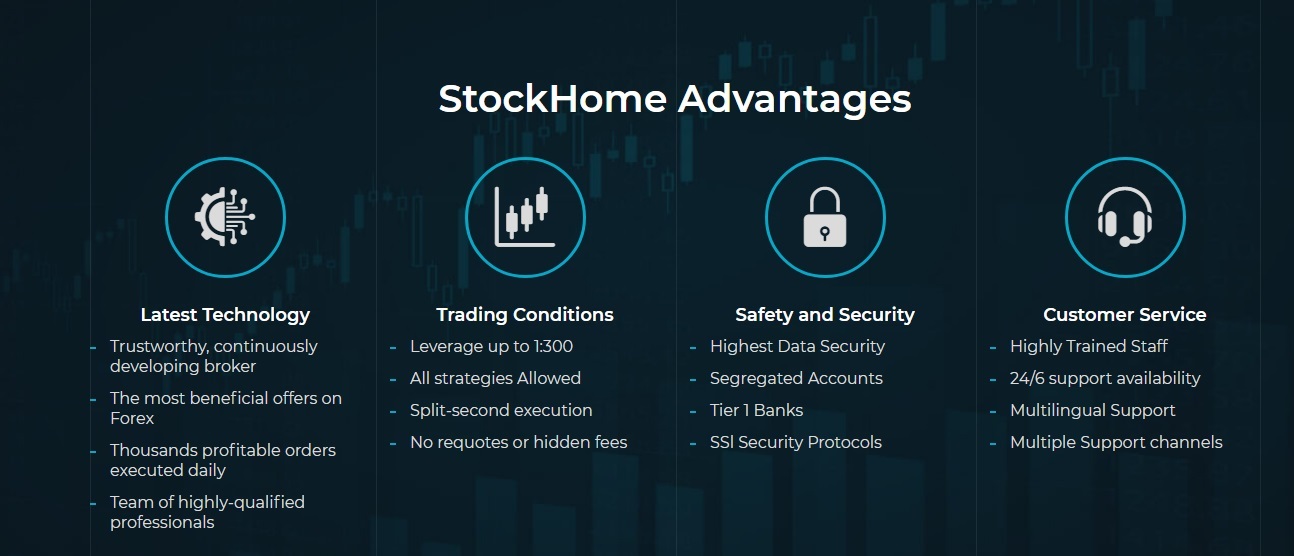 Your Security
At Stockhome, your trading portfolio is always safe. We've developed an entirely new standard of trading innovation.
But technology alone is not enough if it's not backed up with authorization. Our traders can benefit from safe and secured trading conditions:
Segregated Client Accounts
In financial trading, a segregated account is where client funds are being held separately from the broker's funds.
At Stockhome, all client's funds are segregated and safeguarded by reputable credit institutions. Additionally, Stockhome continuously monitors its operations as per its regulatory requirement and submits financial reports.
Encryption and Protection
Using state-of-the-art security measures, we treat your account with complete confidentiality.
Your information and funds are always SSL encrypted and securely stored. Additionally, our site is regularly monitored to protect you from credit card fraud and identity theft.
Platform & Trading Conditions
Stockhome supports a trading platform that offers trading through desktop, web and mobile versions.
Everything you need to analyze the market, trade, or create and utilize Expert Advisors is there. The  Platform supports any browser or operating system (i.e., Windows, Linux, Mac) with no software download required. ( but it is optional)
Stockhome leverages a worldwide network of data centres to ensure excellent connectivity in all world regions.
Most major currency pairs such as EUR/USD and more…
Exotics such as USD/TRY, EUR/TRY, TRY/JPY, USD/CNH, USD/HKD, USD/DKK and EUR/DKK.
In addition to Forex, Stockhome also allows trading in commodities, indices (using CFDs) and cryptocurrencies.
Cryptocurrency pairs cross cryptocurrencies with the U.S. dollar, Euro, Yen, Chinese Yuan, Gold and Oil. Bitcoin, Ethereum and Litecoin are also struck with each other.
Conclusion
Stockhome opens up Forex to those coming from the world of cryptocurrency.
And it does this with an easy understanding of the trading platform and stable trading conditions.
Those who take privacy seriously will appreciate Stockhome's way of handling accounts.
Their market analysis and market report, which continues to fly updated as significant assets to have for any broker as it gives the trader this much needed extra information to come to better trading decisions.
The rates are fair, and they offer more than enough for most traders when it comes to assets for trading.
If you are a professional trader, this broker most likely will not be good enough for you. Still, if you are a beginner or someone who has been trading as a day trader and is just looking to open a few positions a week, this broker will be able to accommodate you nicely.