Few mainstream brands offer hatches, or sedans for that matter, in this class. Ford dropped the Focus, Hyundai got rid of the i30 and Nissan quickly realised bringing the Sentra back was a mistake.
Others still try, like Mazda with the 3, Renault with the Megané and Honda with the Civic but only VW can really say it still sells a fair amount of Golfs. The reason for this category declining is simple – crossovers! The C-segment is where crossovers really start to make more sense in terms of practicality and space.
While the RAV4 is priced higher than the Corolla, studying Toyota's monthly sales figures indicates the C-HR is a threat because in August these two vehicles are only 15 units apart.
So why should you buy a Corolla hatch?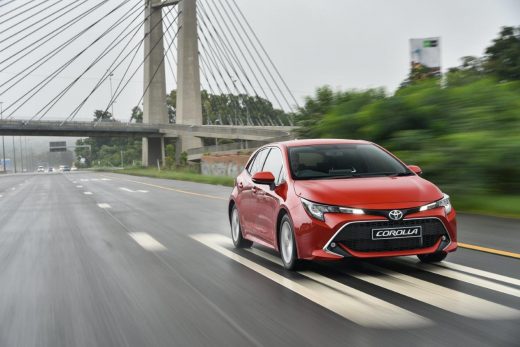 Sporty image
Toyota's latest cars look very progressive with the brand obviously putting effort into creating cars which look modern. Lots of crease lines and sharp edges are to be found on the C-HR, RAV4 and also the new Corolla hatch.
The result is an exterior that is sporty but very 'busy'. Inside there's little fault to be found, the Corolla hatch's cabin being stylish and mainly black right through. The seats, dash, roof, everything is black with only a few touches of chrome here and there.
The model on review here is in Xs trim, meaning it comes with cloth seats instead of leather as in the range-topping Xr version. While cloth, the fabric is of good quality, neatly stitched and has a durable feel. The plastics used throughout the cabin are also of a good grade with soft types employed on the dash.
Then there's the dash-mounted touchscreen… It's absolutely massive! If the technically bankrupt SABC sees this they will want you to take out a TV license for it because it's literally the same size as those portable black-and-white Telefunkens you used to get. I think we've reached the size limit as far as onboard infotainment screens go.
Space
One reason why someone would buy a C-segment car, instead of B-segment cars (Yaris and Polo) which are now doing so well, is because of the space factor, and it's here where my only issue with the Corolla hatch lies.
While the full-sized alloy spare tyre (16-inch) is nice, it takes up a lot of boot space. The Corolla hatch's boot is too shallow to accommodate four people's luggage and at 168-litres (seats up), is smaller than that of the Yaris (256-litres). Rear seat passengers also have a bit of a problem.
While legroom is on par with other hatches in this class, the rear doors are very small, making it difficult to get in and out. The door hinges are basically in-line with the front edge of the back-bench, and the roof line slopes dramatically downwards just above your head, so an adult has to fold himself almost double to pass through the gap.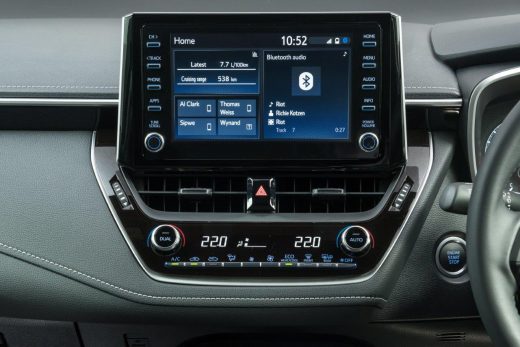 Turbo performance
Toyota SA offers the Corolla hatch in three forms; 1.2T Xs 6MT, 1.2T Xs CVT and 1.2T Xr CVT. The demo given to me by Toyota Empangeni was the 1.2T Xs 6MT, meaning it features a turbo-charged 1.2-litre engine (85kw/185Nm) linked to a 6-speed manual transmission.
The car really performed well in town and on the highway and delivered good performance. It was an engaging drive and felt stable. Comparing the Corolla with the previous car I tested in this class and one of the Corolla hatch's main rivals, the new Mazda3 with its non-turbo 1.5-litre 2.0-litre engines, the Corolla proved to be a lot better to drive.
Though small, the performance of that 1.2 turbo is far better than even the 2.0-litre. Acceleration from 80 to 100, and from 100 to 120, is brisk and I had no trouble overtaking on the N2. The car handles well in the bends and on long straight stretches doesn't 'wander' but keeps a line with minimal steering input. It's also not affected by crosswinds so much, the vehicle's on-road dynamics confirming the Corolla is worthy of its C-segment placing.
Verdict
When buying a C-segment car one expects better performance, more space, more luxury features and a full safety pack.
With ABS, EBD, Blind Spot Monitoring, Hill Assist Control, Vehicle Stability Control, and front as well as curtain airbags, the car scores well in the safety department. Standard luxury features like a stop/start button, cruise control, leather-wrapped multi-function steering wheel, reverse camera, USB ports and that giant touch screen makes the cabin a fine place to be in, and even more so considering the attractive layout and trim quality.
The Corolla hatch is also a pleasure to drive and performs well on the road. It's just in the space department where it scores low and will therefore appeal more to young people who don't have a lot to lug around.